I have seen a lot of bloggers on my Instagram feed with absolutely b-e-a-utiful notebooks in their images which were personalised for them and with their logo. I found out the company behind these notebooks were a company called Chroma Stationery and I just knew I needed to check out
their website
.
Yep, I wanted one so bad and so I placed an order for myself and included one as a little gift for my boyfriend who runs a vlog on Youtube. The ideas in our heads for blog and vlog stuff is just buzzing and so we need an outlet. What better way than with a personalised notebook which also helps advertise our blog/vlog channel!
I am the kind of person that my mind feels emptier once I have written something down. I also remember stuff better once it has been physically written too. If I am going to be constantly writing stuff down, I want it to look pretty as well as be practical. I am a bit of a girly girl after all.
The service I received was exceptional. For example:
I wanted a smudge on my boyfriend's notebook as his vlog channel is named Smudge. Apparently that is a nickname for people named Smith? But a smudge behind the text wasn't possible and so Chroma contacted me to let me know this and ask where I wanted it, or if I was happy to go with their creative input. They also wanted to know what kind of smudge, or if I could provide something visual to help them bring MY idea to life. It definitely made me feel like a vital part in the creation of something, but also made me feel cared for as a client.
After this, the arrival was definitely highly anticipated and I received it beautifully wrapped in tissue paper a couple of days after the emails.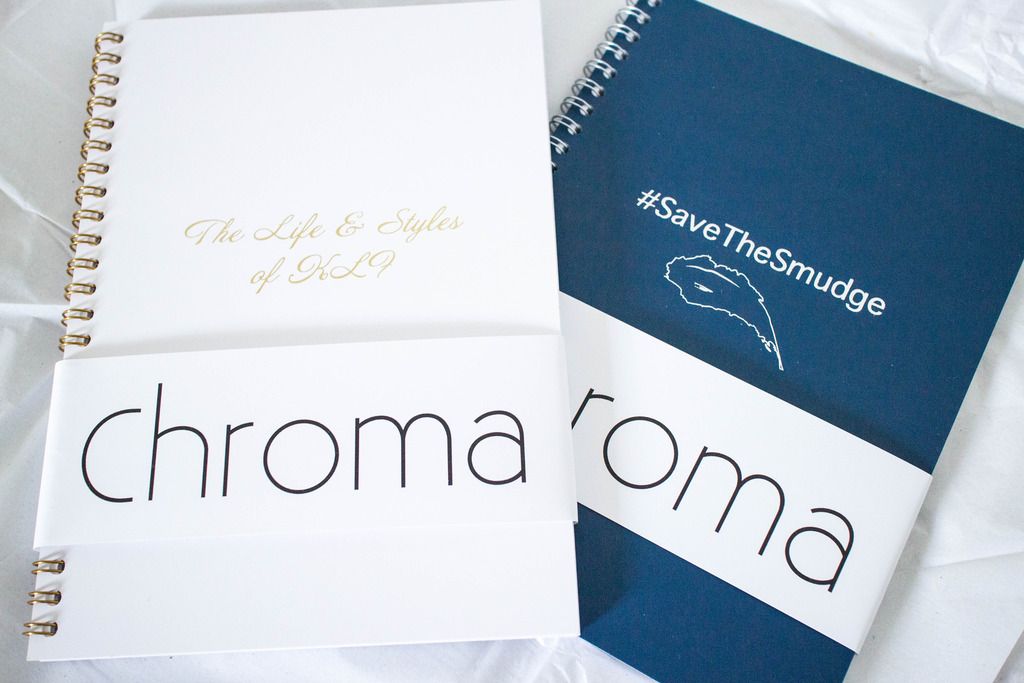 Here you can see my full order above. I chose ring bound notebooks but there is the option of notebooks that are bound like books as well as many different colour options. In fact, so many colour options I spent ages trying to work out what colour notebooks I actually wanted. Maybe I should order more in different colours?
Best part, this exceptional service and the personalisation is at no extra cost to the notebooks, and they are priced so well. I won't spoil my amazement for you, I will just let you look for yourself.
Have you ever heard of Chroma Stationery? Don't you just want one now??!
So cute!