Festival season is now truly among us with the start of summer, and in 2 days time I am heading off to my second festival of the year (my first being
Slamdunk Festival
). This time I am heading off for 3 days however,
I couldn't get the time off work to go for the full 5 :(,
and so camping and being prepared is essential. I thought I'd let you know what I take and how I prep for a festival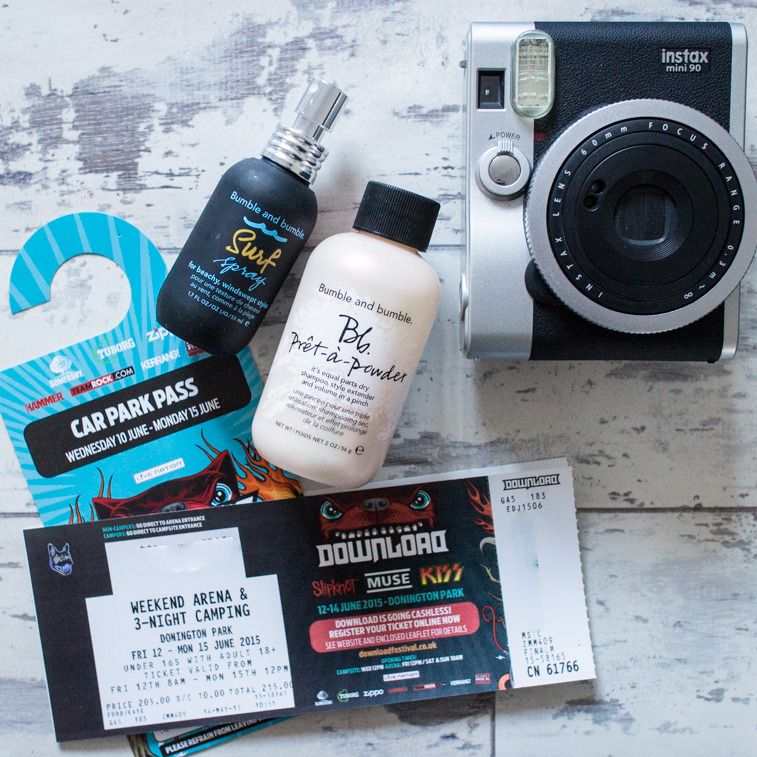 Your ticket is a must, so whatever you do do not forget that!!
I always take a
BIG
camping rucksack and then a
small
backpack or cross body bag to carry my essentials around with me when I am walking around the main arena and between campsites and so that my belongings are safe if I get trapped in a mosh pit
Download this year has gone cashless, innovative and exciting, so I won't need to worry about losing my cash or my debit card when I'm there, or even taking it with me as I top my wristband up with money before I even get there
In my small rucksack that I take around the arena with me I normally include a portable phone charger. This is a big must for me as your phone will die if you are there for the whole weekend. If you don't want to spend your Festival money on charging your phone up, buy a portable charger before you go and make sure it is topped up before you leave for the festival
I also carry inside of my small rucksack, my
phone
, a
camera
(but I never take digital with me. This year it will be my Instax camera)
,
LOO ROLL!!!,
makeup wipes/baby wipes/hand wipes
and
hand sanitising gel
You will also need a decent
tent
. I always pick pop up tents as they are so easy to install, enough room for just me, myself and I inside of it and I normally leave them behind so I don't take it home with me as they are cheap enough to buy every year. Totally not doing that this year though as I have a pretty floral tent!
Not to mention the fact I just booked a Summer camping holiday to Newquay so will need the tent again
Don't forget a decent sleeping bag as the nights can get cold, and I would definitely recommend a camping mat for underneath your sleeping bag. I have done 2 festivals where I have slept on just the ground and I regret not buying a roll mat
I also found on Amazon "
The Ultimate Festival Kit
" which has saved me a lot of worry and hassle trying to remember niggly little bits to take. Inside of it it includes essentials like
sunscreen
,
bandage wraps
,
a travel sized toothbrush and toothpaste
,
dry shampoo
,
hair ties
,
a poncho
,
tissues
,
feminine wipes
and
hand wipes
and
hand sanitising gel
.
Not to mention the utter essentials of glow sticks, a sleeping mask, neon face paint and lollipops
This will all get packed into my big camping rucksack as well as La Roche Posay's Thermal Spring Water spray for refreshing my face, deodorant and makeup/baby wipes for washing myself with in the mornings. I never use festival showers and just deal with dirt and greasy hair, and Bumble & Bumble's Surf Spray to attempt to re-style my hair in the mornings at camp. Even though my festival kit comes with dry shampoo, I am also taking Bumble & Bumble's Pret-a-Powder as a "just in case the other one is rubbish" and to help give my hair extra volume
Then all of the daily makeup needs are packed. I plan to take, tinted moisturiser, concealer, a lip & cheek pencil, travel sized mascara and eyebrow gel. Simple and natural makeup as my face will end up covered with neon paint no doubt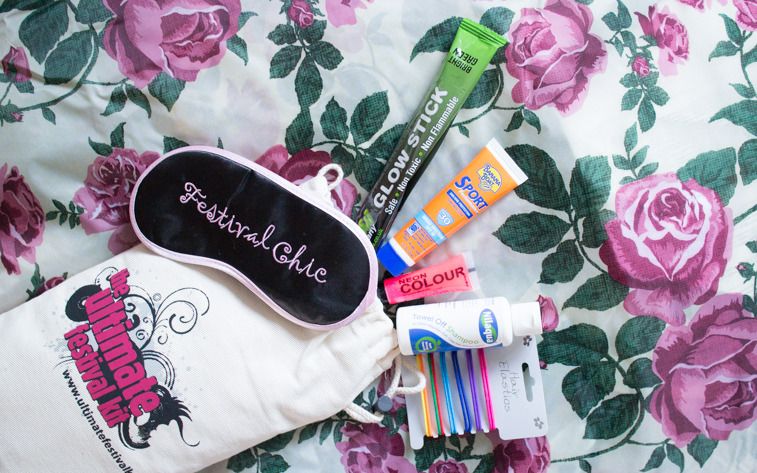 I also sometimes take a hat with me to cover my greasy bed head locks, especially as my hair is now shorter and can't be put into a pony tail with a bandana covering it. Also a great idea if the weather is sunny and you need some shade
If the weather is looking bright and wonderful, sunglasses wouldn't go amiss either!
When packing clothes, you need to remember you are only there for a maximum of 5 days and you don't want too much so that you are overloaded and can not carry your camping bag. It is best to be minimal. Don't even bother with dungarees or a playsuit, the toilets at a festival do not allow for such unaccommodating clothing. Trust me, I did it once and it was a nightmare
I always pack a fold up poncho as a just in case, and then I will pack some sweat pants to sleep in, a couple of t shirts, maybe one cami, a Kimono OR a cardigan OR a flannel shirt, a hoodie or a blanket cape for the cold evenings, one pair of leggings and/or jeans and then one pair of shorts. That way I have all weather types covered!
Also, never ever take sandals. Even if it is sunny, festival grounds end up like a sandy dry mess and your feet will get disgustingly dirty. I always just wear wellies no matter what and that way I am prepared for mud, rain or dry
One last thing:

Take some water! and some booze in cans (if you want something that normally comes in a glass bottle, decant it into plastic ones), I'd also recommend taking some food items like breakfast bars or crisps. Something you can snack on when you have the munchies or have as a whole meal as festival food is pricey
Have a good time and enjoy the atmosphere and music!
Are you heading to any festivals this year? Did you find this helpful?