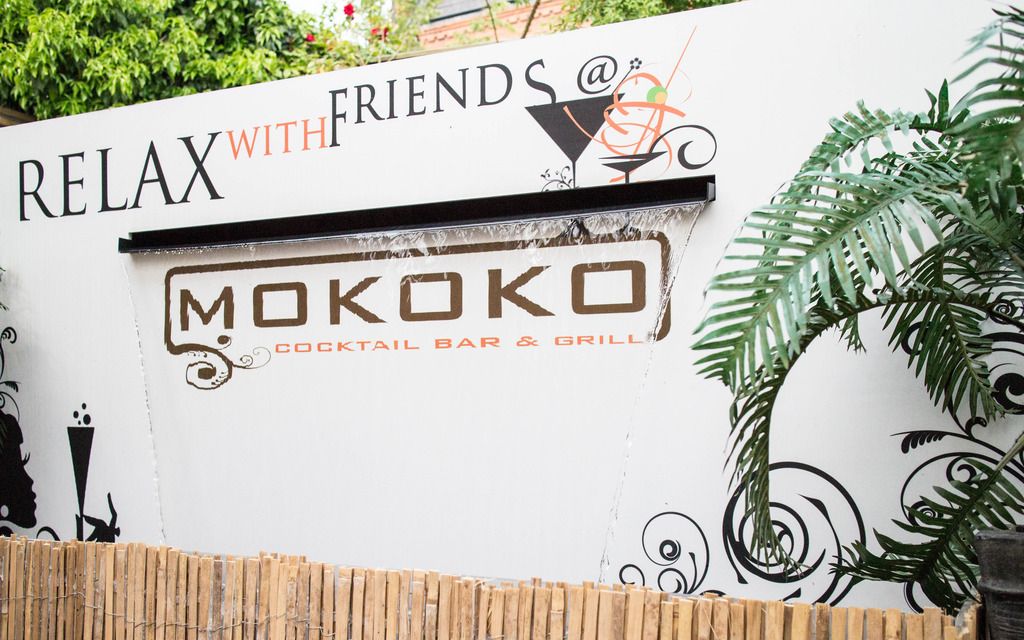 Recently,
Mokoko
Cocktail bar in St Albans invited me and a friend to experience some cocktails and their bar. Of course I took Jordan so we could have a nice date night filled with cocktails on a Saturday night
St Albans is my second home pretty much, yet I had never been to
Mokoko
's (maybe it's because me and my friends have that typical 'regular' pub) or maybe it is because
and I quote from Mokoko themselves
they are a little bit off the beaten track
But I like that! They are just outside of the hustle and bustle of the high street, but still close enough to be a part of it all
I ended up ordering 3 cocktails for myself and Jordan had one cocktail and his second was a mocktail. Well someone had to be the designated driver and it deffo wasn't going to be me
We were handed 2 menus. One was a list of cocktails that were £5 between 5pm and 7pm. Winning!
The other was their regular cocktail menu and it had so many interesting names for cocktails, but so many sections depending on what your poison of choice is
I ordered 2 cocktails at the same time. Just because
First choice was something bubbly and titled "Poison Ivy; Beautifully more-ish and dangerous! Kiwi and Lemon infused with bubbles. More than a match for any Dark Knight."
As much as I hate Batman, I do enjoy the character Poison Ivy and I just loved this description. I also love anything sparkling and I drink a lot of champagne and prosecco
I had never before seen Kiwi and Lemon advertised as flavours within a cocktail though so I was excited to try something new and it didn't disappoint. It was absolutely gorgeous
I also ordered a Vanilla Espresso Martini at the same time because it was on the £5 cocktail menu
Considering I love espresso's I had never had it with alcohol! I think I have found a new love within my life though
This vanilla espresso martini was made with vanilla infused vodka, kahlua and a shot of espresso and served with 3 coffee beans on the top
I can not express enough how much I loved this and I definitely urge everybody to try an espresso martini one day.
Let's all hit up Mokoko's for £5 espresso martinis eh?
Definitely a great pick me up after a busy day
Jordan also ordered from the £5 cocktail menu and ordered a cocktail called "How's Your Father?"
Well the name alone is interesting enough, but when he received the cocktail, it was served in a little milk bottle which made it even cuter
"How's Your Father?; The milkman has been and left a gift. Mozart White Liqeur & Santa Theresa Orange Rum shaken with lashings of orange cream & sugar"
We had been sitting inside for these drinks, but it was such a nice and warm day and I could see a really nice outside area from my seat, so we ordered 2 more drinks and went outside where there was a really nice water feature and some picnic style wooden benches
I can imagine this area being gorgeous in the midst of summer, just sitting outside from afternoon to evening with a bunch of cocktails and good company
As Jordan was the designated driver, his second drink was a mocktail
It was called "Passionate Summer" and was essentially a Passionfruit mocktail. It was too sweet for me, but Jordan loves Passionfruit so who am I to say he can't drink something. I just adored the name and the colour of it
Definitely made me think of beautiful Summer sunsets
Yep, onto my 3rd cocktail now. I loved the Vanilla Espresso Martini so much that I ordered another espresso martini. This was different though and was titled "Mozarts 40th; It's rumoured this latte style cocktail was his drink of choice while composing his 30 min masterpiece. Mozart white choc shaken with vanilla, vodka and coffee. Sprinkled with choc."
OHMYGOD this was one better than the first I tried!! So smooth, perfectly sweet with that amazing strong taste of espresso mixed with chocolate. It was absolute perfection in a glass and I could have happily had many many more until I was buzzing off of the walls
I thoroughly enjoyed my time at
Mokoko
's. The staff had some great recommendations on drinks and could happily talk about them all
It was also a really nice setting to just sit back with Jordan and have a great evening together just talking over REALLY good drinks
Thank you ever so much for the invite Mokoko's and you will see me again soon!
Mokoko's also work with St Albans Fashion Week because you know, Cocktails go with any outfit so they will definitely see me again if I attend St Albans Fashion Week later this year. It would also be the perfect pit stop during or after a girly day of shopping and I definitely want to bring my bestie here
Do you live in, or near, St Albans and have ever been to Mokoko's? Don't you just want to have an espresso martini right now? I know I do!